I was very pleased to participate at the first Spanish ERC Recognition Event,  organized by the Ministry of Science and Innovation on the evening of the 16th of November  2023 at the Escuela Técnica Superior Ingenieros Industriales of Universidad Politécnica de Madrid.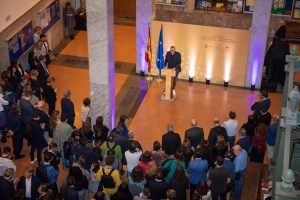 It was a very nice social event with cocktail for  ERC Principal Investigators, blessed with the presence of ERC President Maria Leptin and Secretary General of Research Raquel Yotti from the Spanish Ministry of Science.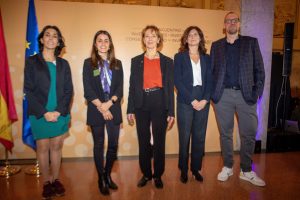 [left to right: Estefanía Muñoz (FECYT), Verónica Llores-Rico (CIPF), María Leptin (ERC President), Raquel Yotti (Secretaria General de Investigación), Jonas Radl (UC3M)]
I was honoured to be asked to say a few words about my experience as an ERC grant holder and the significance of the program for European science. It was a truly special occasion to be surrounded by so many bright minds. Thank you to the organizers at the Ministry and FECYT.